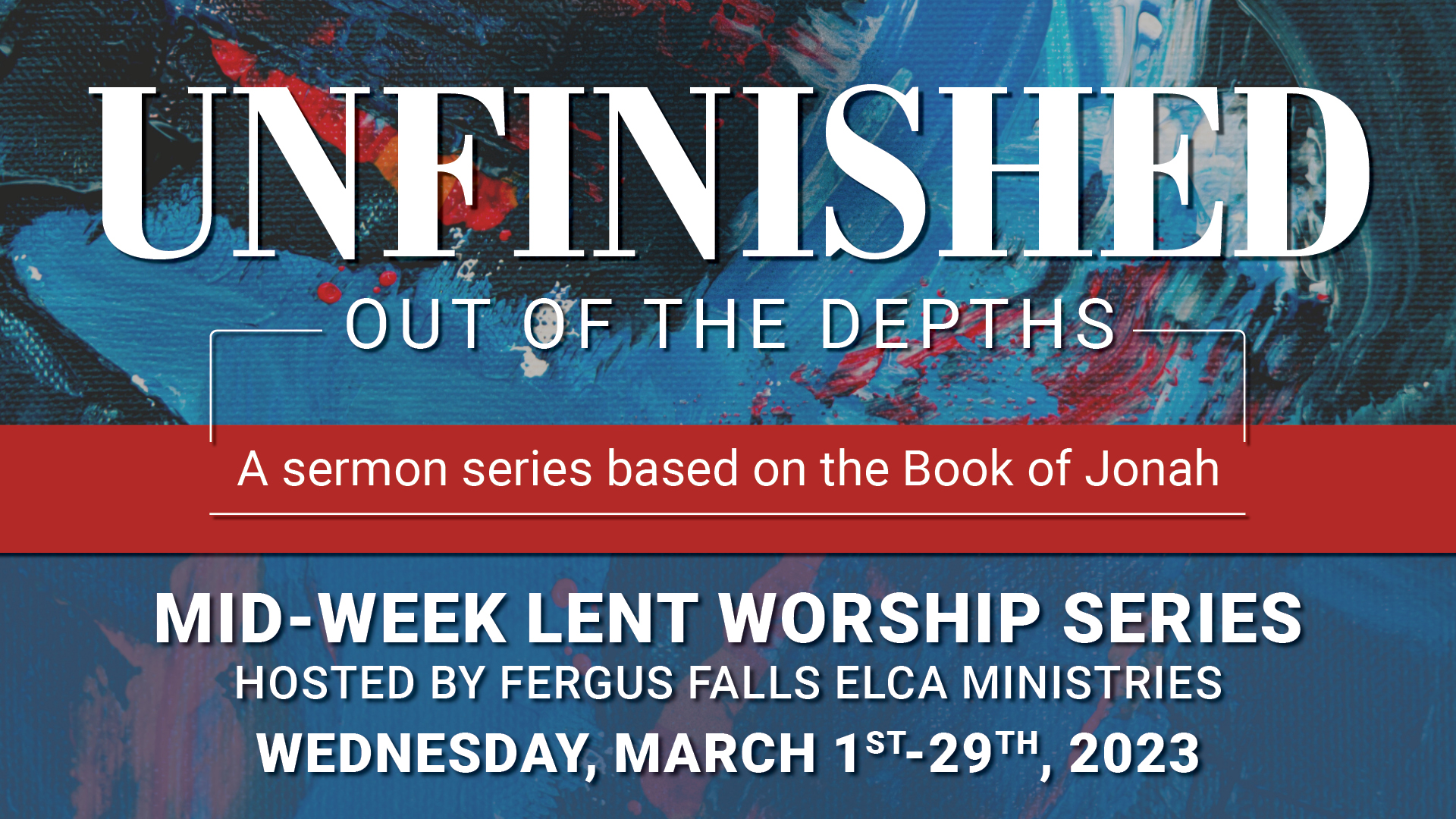 Mid-Week Lent Worship Series
Joint Services Fergus Falls ELCA Ministries
Wednesdays, March 1-29, 2023
12:10pm Worship followed by Lunch
5:30pm Meal, *6:30pm Worship
6:30pm* services will be live-streamed & on KBRF AM 1250
Visit the hosting Church's website for live-stream links
We invite you to come and worship with us, and to join with our larger faith community in Fergus Falls, as we journey through the season of Lent together. An offering will be taken at all the worship service, all designated checks and envelopes will go to their respective churches, so we ask that you please write out your checks or envelopes to Bethlehem Lutheran Church.
Unfinished
Out of the Depths
A sermon series based on the Book of Jonah
Jonah walks a Lenten path. Like all human beings, he is prone to wander from his Creator in favor of determining the shape and scope of his own future. This temptation is especially powerful when God calls us to take on risky ventures, travel to strange places, and confront things inside of us that prevent us from seeing one another as God does. God meets us in those liminal, Lent-like spaces when we find ourselves somewhere between trust and doubt, courage and fear, anger and empathy.
March 1 – "Intercepted and Redirected"
Zion Lutheran Church  www.zionlutheranff.org
March 8 –  "God in the Depths of Chaos"
First Lutheran Church  www.Firstlutheranchurchff.org
March 15 – "Obedience and Preservation"
Augustana Lutheran Church  www.augustanalutheran.org
March 22 – "Faithful and Unfinished"
Hope Lutheran Church  www.hopeff.org
March 29 – "Jesus, a New Jonah"
Bethlehem Lutheran Church  www.bethlehemff.org